Información básica
Modelo: Bestway Full Face Snorkel Mask
Descripción del producto
step1:Check the diving mask and accessories,diving make sure the Swim Goggles and all parts are good

step2:Connect the Precise Ecig Silicon Rubber mouth part to the dive equipment,use a cable tie sealing the connection part

step3:Wear the Full Face Diving Mask and the whole diving suits,clip the buckles and safe belt,ready for diving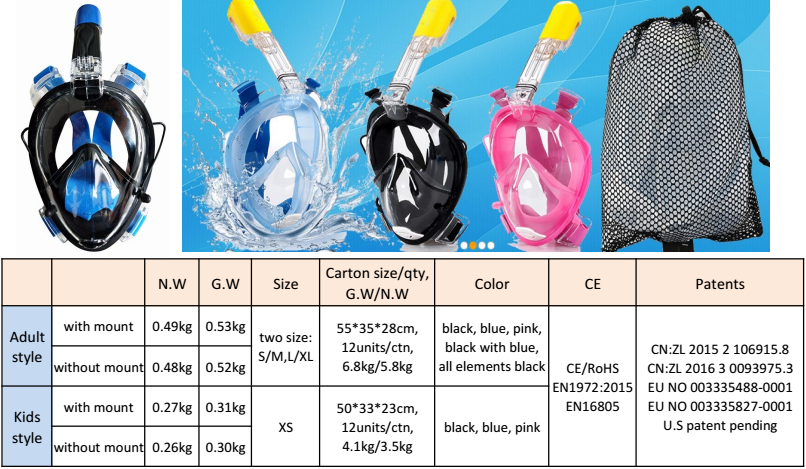 1) Product Name: RKD One-piece Full Face Snorkel Mask Anti-fog
2) Product Design Principles:
**A Patented Constructed of All-in-one Design
**Dual Ventilation Channels with Insert Dual Breathing Tubes Anti-fog
**Dry Snorkel Technology
**Quick Drainage Valves
**Shatterproof & Scratch-resistant PC Glass
**Elastic Nylon Straps
**Waterproof Ear Plugs
3) Product Features:
1. Outfitted with comfortable silicon face padding, watertight with ergonomic design, perfect for human face
2. 180° panoramic design provides the widest field of view aquatic life
3. Easy to use, breath naturally, clear vision

4. Light weight, adult mask weight 480 grams, kids mask weight 260 grams

5. With a Non-removable mount for standard sports camera, or a removable gopro mount
4) Product Pictures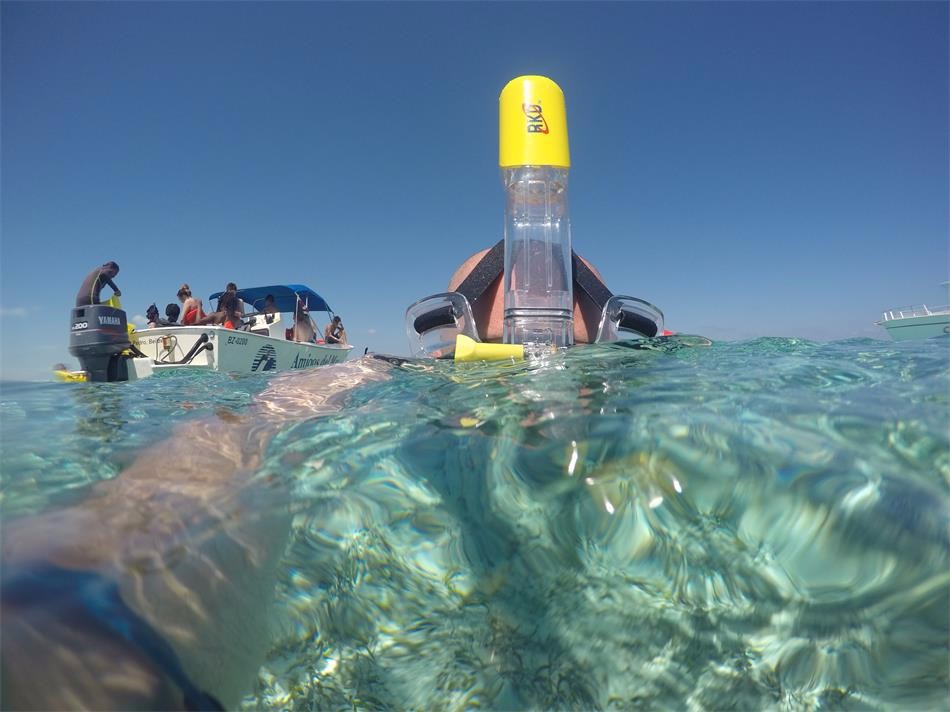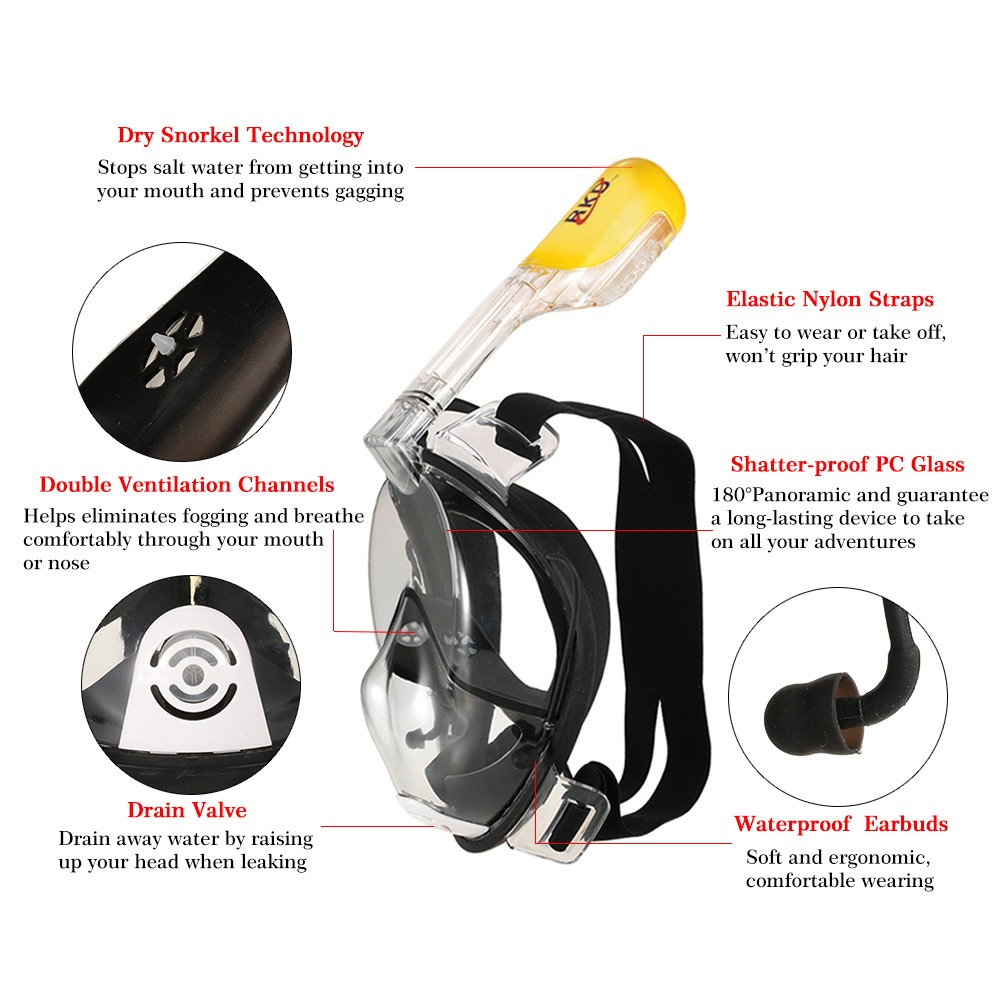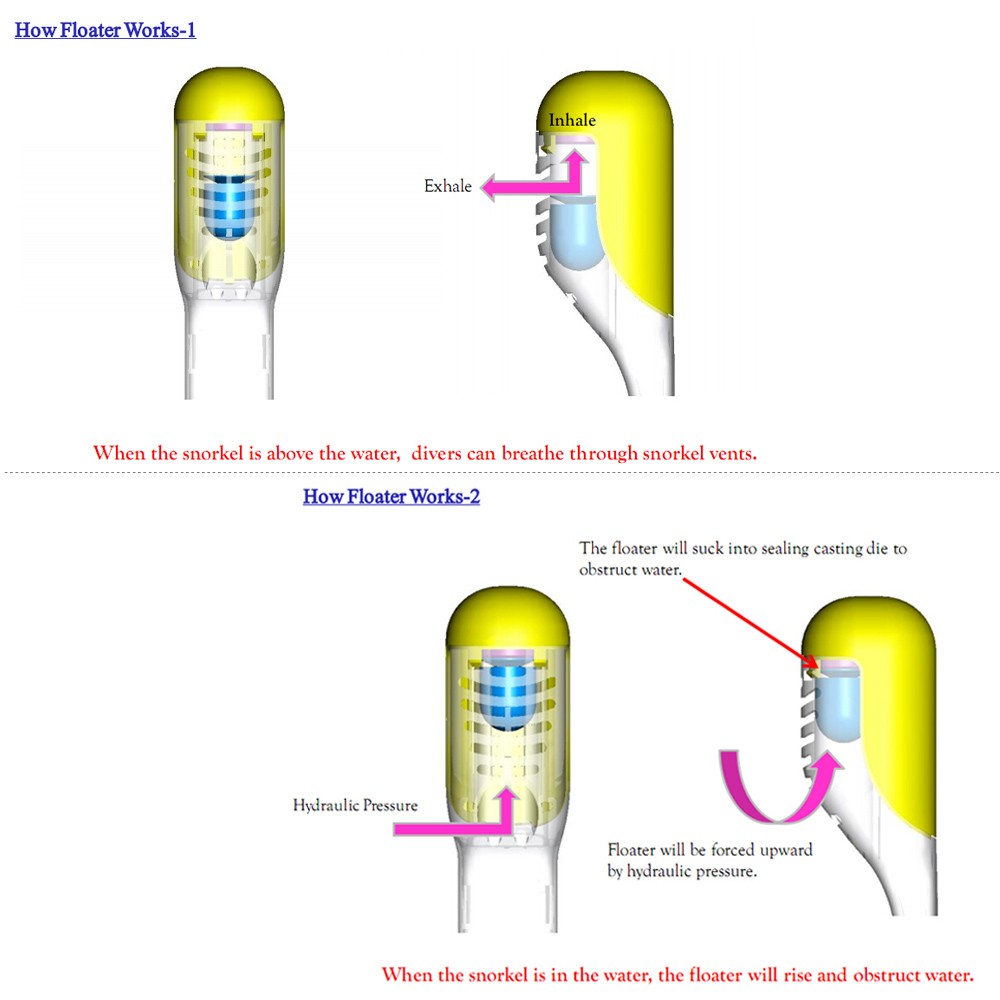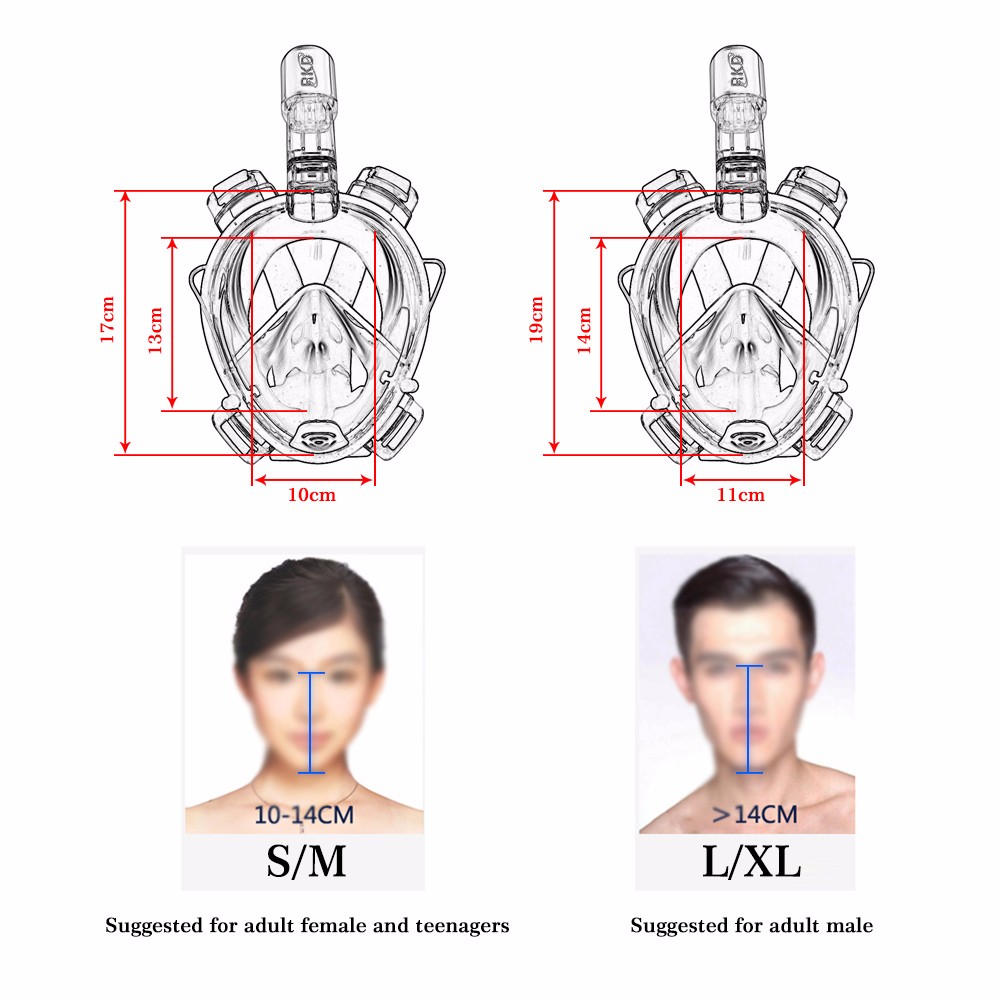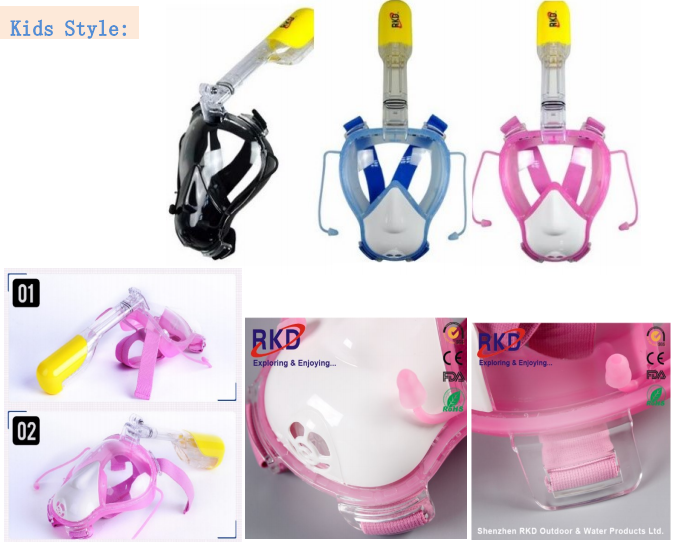 RKD one-piece full face snorkeling mask VS Others assembled full face snorkeling

One-piece durable silicone skirt VS Assembled heavy & hard plastic skirt

Upgraded technology no assembling at mouth part
VS Others more complicated process

RKD one-piece full face snorkeling mask VS Complicated & difficult
to assembled others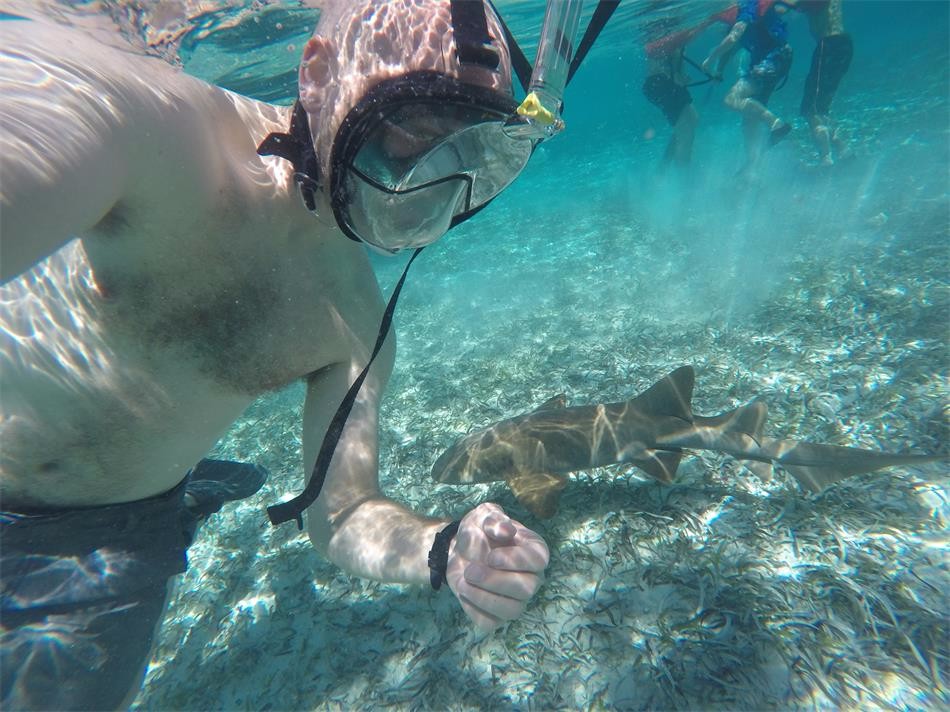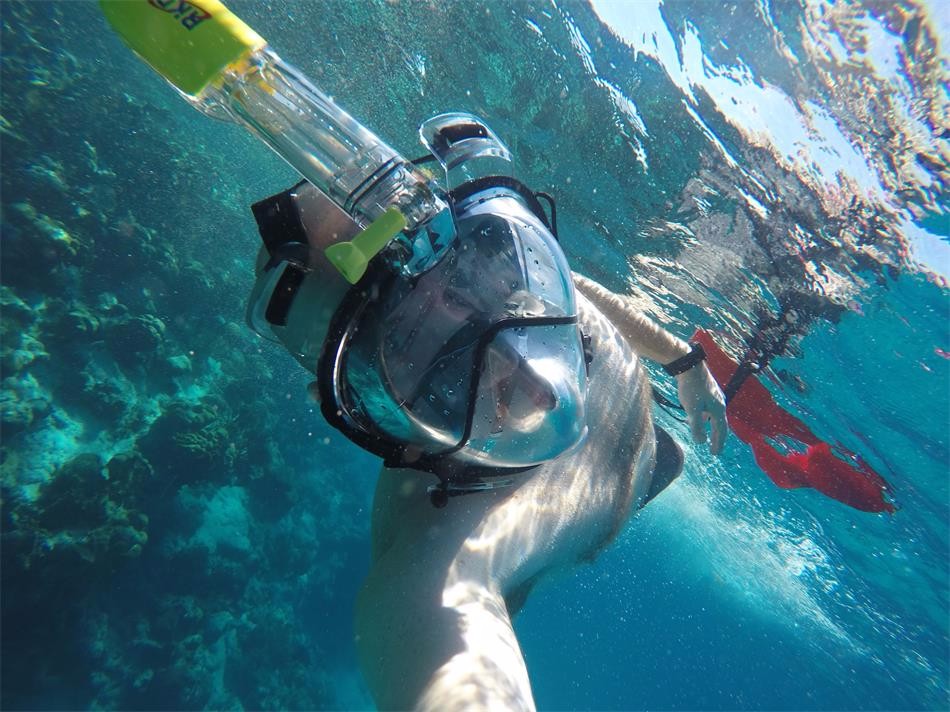 Shenzhen RKD Outdoor & Water products Co., Ltd, which is the only manufacturer focus on all-in-one full-face snorkeling / Diving Mask Best Household Silicon Products in Shenzhen, China. I found your contact from Linkedin and believe that you will be interested in our products.
We supply Body Glove and Carnival Cruises with our snorkel mask in the United States and we are confident in our quality. The big retailers (Walmart, Costco, PriceSmart and other national chains and clubs) in the America like our product.

I'd like to share with you that we had developed a new design of snorkel / scuba mask, especially the new function of equalization. This is a game changer product with its unique design as below.
We also produce high quality snorkeling masks as following,
★【EAR PRESSURE BALANCE】: RKD's Diving Mask Details/High Quality Snorkel/Household Silicon Products/Household Silicone Gloves/E-cigarettes Silicon Parts with soft silicone nose cover. Just pinch your nose position and you balance the ear pressure and relieve the headache caused underwater . Let you gain a deeper and more comfortable snorkeling experience
★【SAFETY BREATHING SYSTEM】: Totally Separated inhale&exhale channels. The exhaled CO₂ won't be breathed back in, which reduce the buildup of CO₂ and increase the snorkeling safety. After years of repeated authoritative tests, our snorkel mask provides twice the ventilation for more fresh air flow and make the mask stay fog-free.
★【ANTI LEAK & ANTI FOG】: Top dry system, gasbag design and extra chin supporter provide a NO LEAKING snorkeling for you. The silicone layer inside the mask completely isolates the viewing area from the nose and mouth area(exhale hot air). NO worry about fogs, enjoy a clear surface snorkeling!"
★【UNIVERSAL SIZE & QUICK RELEASE 】: The food grade silicone gasbag of our snorkel mask offers a universal size that fit most different face shapes well including men, women, 12+ teenagers and so on. Plug-in buckle&adjustable headb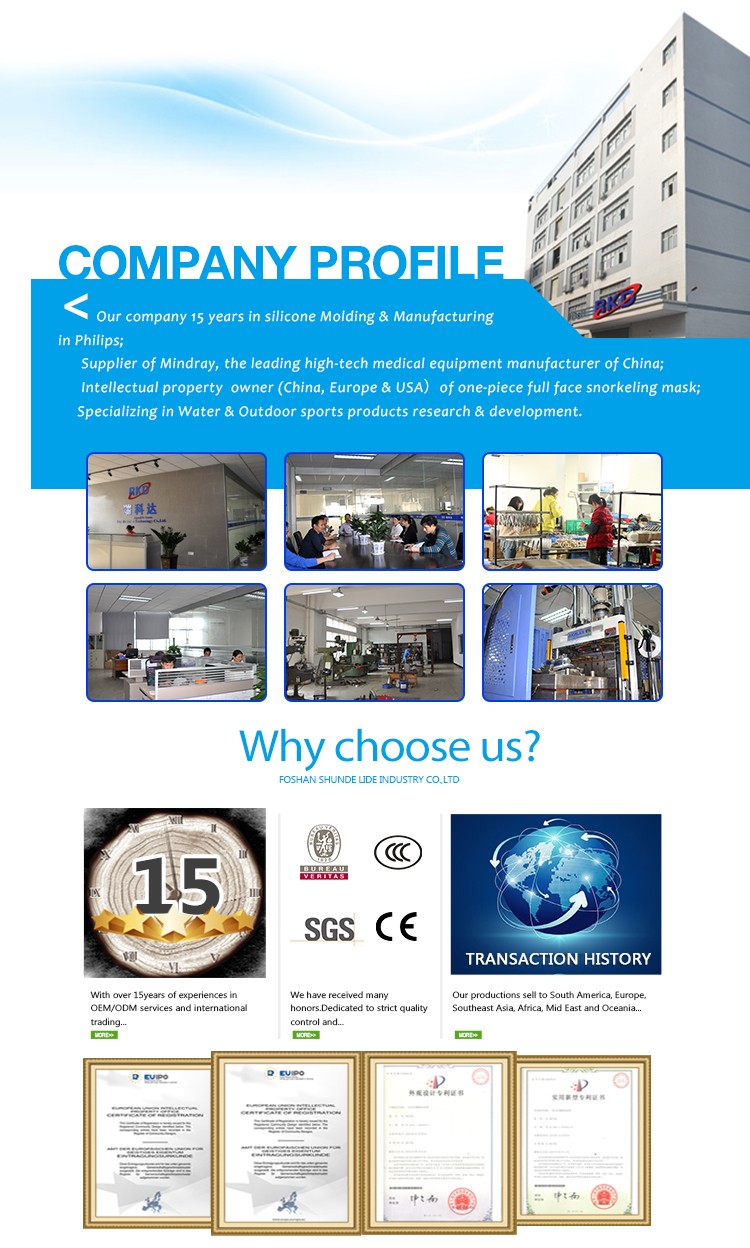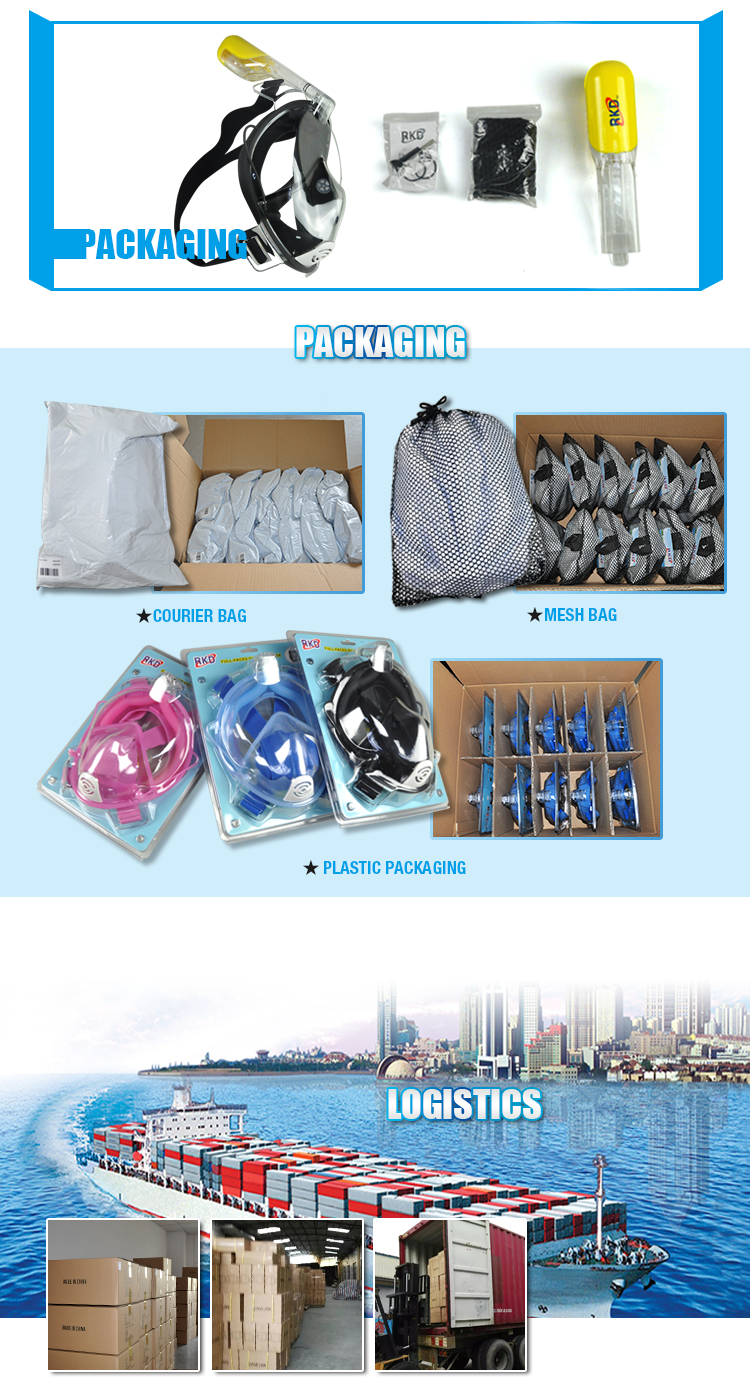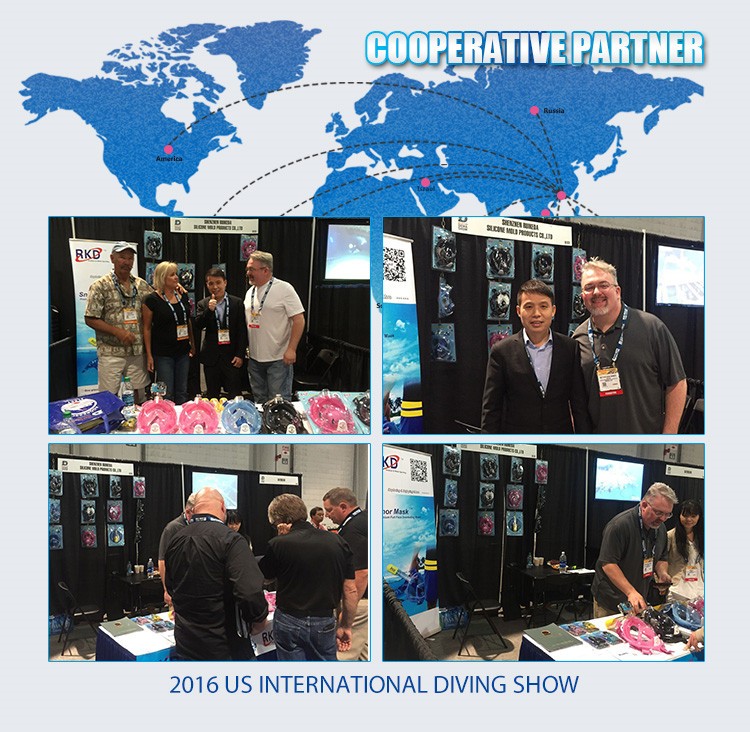 1.Are you a manufacturer or a trader?
We are the only manufacturer of one-piece full face snorkeling mask.
2.What the advantages of RKD one-piece full face snorkeling musk compare to others?
The advantages are as follow;
One-piece patented design, soft, durable silicone skirt, no assembling, water won't leak from the edges.
Dual breathing tubes start breathing chamber, pass through view chamber into the snorkel tube, guarantee no fog in the view section.
Built-in ear plugs, no need to buy extra ear plugs.
Light weight, only 480 grams, 100 grams less than others. More comfortable for a long-lasting use.
3.What are the certificates you can provide?
Currently, our products obtained the Non-toxic test report for raw material, EN1972,EN16805 report from SGS, and got CE & RoHs certificate as well.
4.How to be your agent in my country
You have to love our products and plan to develop a relationship with us for at least 2 years. Authorization will depend on your country and the expected size of the market for that country.
5.Can we private label the mask?(our logo and packaging design)
Yes, we can silk print your logo on the product and customized packaging design for free if you order more than 500 units, while it need charge according to the quantity.
6.What kind of packing options do you offer?
There are two packing options, one is mesh bag and other is plastic clamshell packaging.
7.Do you have any issue to sell this full face snorkeling mask with other brands?
They are completely different product in structure and appearance, RKD one-piece full face snorkeling mask owns patent from China & Europe. The US patent is pending. We will have it soon.
8.How long usually takes my order?
1-15 days depends on your order quantity and requirement.
9.How to shipping my order?
We have strong cooperation with DHL, UPS, Fedex, EMS, TNT, China Air Post. You also can choose your own shipping forwarder.
Contact Name: Euphy Hodnett
Factory Name Shenzhen RKD Water & Outdoor products Co.,LTD
Factory address: 2/F, B Building, XinXinAn High-tech Zone, SongGang Street, Shenzhen, China
Sales office (US): APT 166, 2526 Meadow Park Circle, Bedford, Tx, 76021
Tel(CN): 0755-23573841 (US):(214)734-2338 Fax:0755-27238749
Skype: Euphy Hodnett
Facebook: www.facebook.com/rkdsports

RKD Outdoor & Water Products Co., Ltd
RKD Outdoor & Water Products Co., Ltd, que es el único fabricante enfocado y con patente sobre máscaras de buceo / snorkel todo en uno en Shenzhen, China. Con más de 18 años de experiencia en moldeo y diseño de caucho de silicona líquida, nuestros productos se venden en el mercado global y brindan una excelente experiencia de buceo y esnórquel para el consumidor.
Con un sólido equipo de I + D y producción con patente de producto propio (China, Europa y EE. UU.) De máscara de snorkel de cara completa de una pieza

El proceso de fabricación bajo estricto control de calidad.

Brindar un servicio al cliente profesional y una reacción rápida.

Con fábrica propia de más de 8.000 metros cuadrados y 300 trabajadores, gran taller de producción, máquinas e instalaciones precisas, gran capacidad de producción

Proporcione soluciones personalizadas de inyección de caucho de silicona líquida, una rica experiencia para ayudar al cliente a construir negocios rápidamente

Centrarse en la seguridad del producto y el diseño innovador que brindan una excelente experiencia de uso a los usuarios finales
Nombre de empresa: RKD Outdoor & Water Products Co., Ltd
Representante: Jack Xiao
Producto / Servicio: Máscara de snorkel de cara completa , Máscara de buceo de cara completa , Máscara de buceo de cara completa , Máscara de buceo , Gafas de natación , Productos de caucho de silicona líquida personalizados
Capital (Million US $): 500,000RMB
Año de fundación: 2012
Facturación Annual: US$2.5 Million - US$5 Million
Porcentaje de exportación: 91% - 100%
Volumen Total de Compras anual (Millones de dólares EE.UU.): US$1 Million - US$2.5 Million
Número de Líneas de Producción: 6
Número de empleados para investigación y desarrollo: 5 -10 People
Número de empleados para control de calidad: 5 -10 People
Servicio del OEM proporcionado: yes
Tamaño de la fábrica (metros cuadrados): 5,000-10,000 square meters
Ubicación de la fábrica: A8 building, Xinwei Fourth Industrial Zone, Matian Street, Guangming District, Shenzhen, China
Persona de Contacto: Mr. Andy Wong
Número de Teléfono: 86-0755-23573841